Rehang and Blessing of the Bells of Rodmell (6)
Details

Published: Friday, 12 March 2021 12:03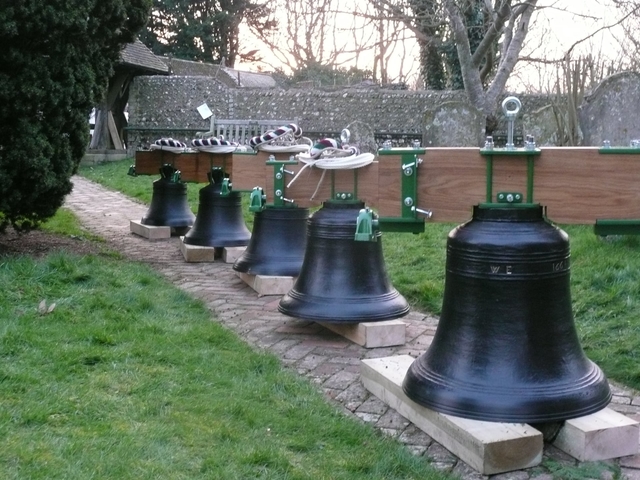 Earlier this month, the bishop of Lewes attended a service to bless the church bells at St Peter's Rodmell in East Sussex. The six bells had recently been returned after major restoration, with new fittings, frame strengthening and retuning.
At the special outside service, to observe the social distancing, Bishop Will was joined by the Archdeacon of Brighton and Lewes, Martin Lloyd Williams, the Rev Mary Sitwell and many local people and church goers involved in the project.
Bishop Will wrote: "It was so wonderful to be in Rodmell and play a part in the fantastic restoration of a much loved but long silent peal of bells. Bells have a special place in the life of God's people: the peal of bells mark the hours for prayer and call us to worship; bells alert us to both important happy and sad events, in the life of the church and the community. This is I suspect why they are often called the 'voice' of the local church and why there is an ancient tradition of Christening bells giving them the names of Saints.

"This has been a real local project and thanks are due to so many, but one name was very much in our hearts. The Rev Marcus Brown played such a big role within the life of local church communities and was passionate about getting the bells restored. One of the last trips he made was to see the bells removed from the tower. Marcus sadly died last year and It is very appropriate that his name is recorded on a plaque attached to the tenor bell. We continue to pray for Jenny and the family as they mourn his death. As that bell is rung many will remember him and the faith that he proclaimed that calls us to the eternal love of God."
The service was also a celebration of local people coming together to make it all possible. In the service order thanks were given to church member and neighbour, Michael Royalton-Kisch, whose generosity, energy and vision made the project happen and kept it on track, and to local farmer Chris Wetton and his men by bringing the heavy bells uphill to the church.
Huge thanks also go to all the villagers who supported the project, and who are looking forward to hearing the full peal in due course.
Now the bells are back in their rightful place in the church tower and ringing will resume. Several Southern District events will be held ar Rodmell this year.
Photo courtesy of Lorna Melia. Article republished from the Diocese of Chichester webpage.