Death of Peter Hurcombe (past master & vice president)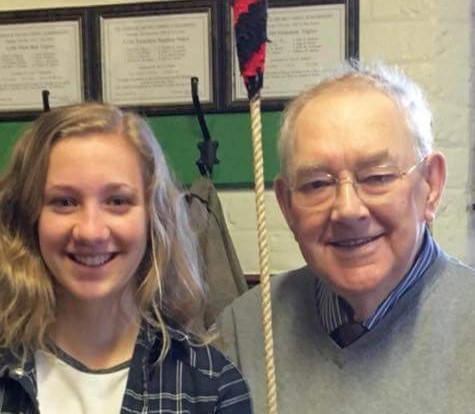 It is with regret that we announce that Peter T. Hurcombe, past master of the association passed away last night (4th October) peacefully at home with his wife Kate. Pictured here with his Granddaughter Rachel Mahoney (Sussex Young Ringers Captain), this larger than life character will be missed by many. He was an amazing man who gave so much to the association and the art of change ringing. Our thoughts are with Peter's family at this sad time.
Peter's funeral will be on Friday 26th October 2018 at 1.30pm Holy Trinity Church Hurstpierpoint. There will be a family burial immediately following the service in South Avenue, Hurstpierpoint. Refreshments will be served at Hurstpierpoint Bowling Club. There will be open half - muffled ringing following the service for those who wish to participate. Family flowers only please but donations can be made to the MS Society via Paul Bowley Funeral Services. There will be a Remembrance book available both at the church and at the Bowling Club....please do take a little time to fill it in for Peter's family, who take comfort to read all your lovely comments.