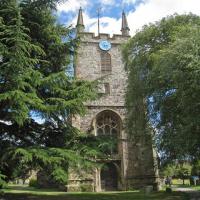 Upcoming Events at this Tower:
Number of Bells
: 8
Tenor
: 9-2-5 (485kg) in G
Practice Night
:
19:30 - 21:15
Sunday Ringing Times: 9:45, 17:45
Notes / Information
:
Home of the SCACR Ringing Centre. Long stay parking is available close to the centre at no cost (in the vicarage field car park or long stay at the leisure centre). The church has a kitchen and flexible space.
Facilities (Parking, WC, Ground Floor Ring, Unringable, etc.)
:



Ringing World BellBoard
A listing of the most recent performances on the Ringing world's BellBoard website for this tower can be found below. Clicking on the headings of each performance will display further details: