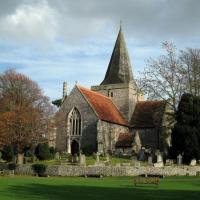 Upcoming Events at this Tower:
Number of Bells
: 6
Tenor
: 8-2-10 (436kg) in A
Sunday Ringing Times: 10:15 - 11:00
Notes / Information
:
There is no parking at the church. Visitors are asked to use one of the public car parks at the north of the village. Rung from chancel crossing.
Facilities (Parking, WC, Ground Floor Ring, Unringable, etc.)
:
Ground Floor
WC
Restricted Parking



Ringing World BellBoard
A listing of the most recent performances on the Ringing world's BellBoard website for this tower can be found below. Clicking on the headings of each performance will display further details: