Congratulations to the Sussex Young Ringers team who won the RWNYC (Ringing World National Youth Contest) in London today (7th July 2018).
There were 8 teams in their heat at Cubitt Town, with the top two performances going through to the final at Garlickhythe. A superb performance secured their place. The six teams in the final were all of an impressively high standard but after a confident, excellent, almost faultless piece of ringing Sussex were judged the winners. Julia Cater, Chief Judge, said of the Sussex win - 'you did an amazing job. Professional and controlled. Fully deserved'.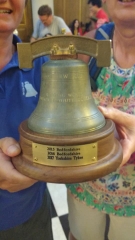 The Sussex Young Ringers received the Gold Medal for the Call Changes category and were of the Whitechapel Trophy for the overall contest, with an A grade for their ringing.
Well done to the whole team, we are so proud of you!
On behalf of the Association, many thanks to Sandra Alford & Anne Franklin for all their hard work in supporting the Young Ringers' training, practice & preparation for this event.
The Ringing World cover page featured "Sussex Win the RWNYC" headline & team photo on 13 Jul 2018 - see screenshot below!